Research for Medical Imaging and Radiation Sciences (Paperback)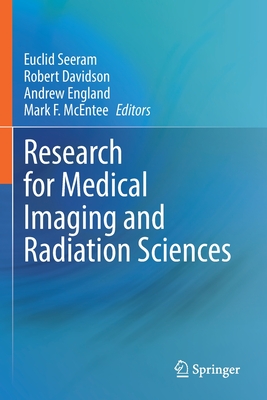 $114.99

Usually Ships in 1-5 Days
Description
---
Chapter 1: The Nature and Scope of Research (Dr Euclid Seeram)
- What is Research?
- Medical Radiation Sciences Research: AN Overview
- The Importance of Research
- Steps in Conducting Research
➢ The Research Process Cycle
▪ Identifying a Research Problem
▪ Literature Review
▪ Purpose of Research
▪ Data Collection
▪ Data Analysis and Interpretation
▪ Reporting and Evaluating Research
➢ Use of Statistics
- Research Ethics
- The Research Proposal
- Examples of Research in Medical Radiation Sciences
- References
Chapter 2: Quantitative and Qualitative Approaches to Research-An Overview of Approaches (Dr Euclid Seeram)
- What is Quantitative Research?
- What is Qualitative Research?
- Characteristics of Quantitative and Qualitative Approaches
- Research Designs-Overview
- Selection of the Research Approach
- Two Examples of Quantitative and Qualitative Research
Chapter 3: Planning Your Research (Dr Rob Davidson) - Formulating a Research Question- Justifying a research question- Formulating a Hypothesis- Research Ethics
- The Research Proposal
Chapter 4: The Literature Review (Dr Rob Davidson) - What is a literature review compared to an annotated bibliography?- Searching the literature- Critical Reading and Analysis- Writing the Review
- Acknowledgement of Sources
Chapter 5: Quantitative Research Methods (Dr Andrew England-Contributor)
- Quantitative Research Methods
o Descriptive Research
o Correlational Research
o Quasi-Experimental Research
o Experimental Research
Chapter 6: Qualitative Research Methods (Dr Chandra Makanjee-Contributor)
o Phenomenological Research
o Grounded Theory Research
o Ethnographic Research
o Explanatory - Descriptive Qualitative Research
o Historical Research
Chapter 7: Data Collection, Analysis and Interpretation (Dr Mark McEntee-Contributor)
- Data Collection
- Descriptive Statistics
o Presentation of Data
o Measure of central tendency
o Standard deviation
o Variance
o Correlation
- &
About the Author
---
Dr Euclid Seeram was formerly the Program Head of the Medical Imaging Degree at the British Columbia Institute of Technology, where he worked for 38 years, where he served the Medical Imaging education and clinical practice communities; and earned an excellence in teaching award. Currently, Euclid has the following honorary academic appoints at Monash University; Charles Sturt University; and University of Canberra; in Australia. He is a full member of the Health Physics Society, and served as external examiner for 5 PhD dissertations on CT, from the University of Sydney. Euclid has published more than 55 papers in peer-reviewed radiologic technology journals, and has published 24 textbooks on CT physics and technology and radiographic sciences. He serves on editorial boards for Radiography; Biomedical Imaging and Intervention Journal; International Journal of Radiology and Medical Imaging; Open Journal of Radiology; Journal of Allied Health; Journal of Social Science & Allied Health Professions. He is on the international advisory panel for the Journal of Medical Radiation Sciences. Professor Rob Davidson is the inaugural Professor in Medical Imaging at the University of Canberra, Australia. He has previously held roles as a Professor / Associate Professor at other Australian universities. Prior to his academic career, Prof Davidson held positions in clinical practice and in sales / marketing roles. Prof Davidson began his academic career in 1995; was awarded the 2001 UniServe Science National Science Teaching Award as the best university science lecturer in Australia; completed his Masters degree in 2003; gain his PhD in 2006 and gained Fellowship of the Australian Society for Medical Imaging and Radiation Therapy (ASMIRT) in 2008. In 2015 Prof Davidson was recognized internationally as one of the top five medical imaging researchers in Australia and top 15 world-wide. Prof Davidson has been invited as a visiting Professor to Fiji, Canada, Kuwait, Saudi Arabia, The Netherlands and Taiwan and as a keynote speaker at international medical imaging and medical physics conferences. Dr Andrew England is Senior Lecturer in Radiography (Diagnostic Imaging) within the School of Allied Health Professions at Keele University. He is a leading radiography researcher within the UK and is also recognised internationally. He has published over 80 peer reviewed journal articles and is currently Associate Editor for the journal Radiography. His publications and research experience focus on dose optimisation, evaluation of medical devices using imaging and digital mammography. He has received grant income of over $400,000 and was awarded a UK NIHR Doctoral Research Fellowship. He has won a number of awards for both teaching and research and is currently the Chair of the European Federation of Radiographer Societies (EFRS) Educational Wing Management Team. Professor Mark McEnee is Chair and full Professor of Diagnostic Radiography and head of the Discipline of Medical Imaging and Radiation Therapy at UCC. He has been identified as among the most prolific authors in Medical Radiation Sciences globally. His research has been disseminated through major international imaging meetings and published in over 200 original papers in highly ranked radiological journals. His publications involve exploring novel technologies and techniques that enhance the detection of disease, whilst minimizing risk to the patient. He research has attracted 1.8m in research funding. He is a Senior Fellow of the Higher Education Academy and a Lifetime Fellow of the Irish Institute of Radiography and Radiation Therapy, has been Health Sciences Research Supervisor of the Year at the University of Sydney in 2018, received the Vice Chancellor's Award for Excellence in Higher Degree Teaching in 2014 and the Australian University teacher of the year 2017.