Difficult Decisions in Surgical Ethics: An Evidence-Based Approach (Difficult Decisions in Surgery: An Evidence-Based Approach) (Paperback)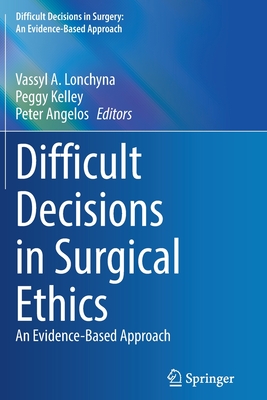 $183.99

Usually Ships in 1-5 Days
Description
---
This book provides a detailed guide to the ethical considerations involved when making decisions in surgery. Chapters feature a uniform format, which feature a case that represents a real-life problem, discussion of the medical indications of that issue, the latest available medical solutions, and related ethical considerations. In some cases, more in-depth debate is provided on why a particular decision should or should not be made based-upon ethical principles. Information boxes containing key statements and relevant data in clear easy-to-digest tables facilitates the reader in being able to assimilate the most important points covered in each chapter.
Difficult Decisions in Surgical Ethics: An Evidence-Based Approach is a thorough review of ethical considerations in a range of surgical scenarios encompassing both adult and pediatric topics, training surgical residents, ethical care during a pandemic, critical care, palliative care, sensitivity to religious and ethnic mores, clinical research, and innovation. It is intended to be a vital resource for practicing and trainee surgeons seeking a comprehensive up-to-date resource on ethical topics in surgical practice. The work is part of the Difficult Decisions in Surgery series covering a range of surgical specialties.
About the Author
---
Vassyl A. Lonchyna, MD, MJ is a cardiothoracic surgeon and a surgical intensivist, affiliated with The University of Chicago. He received his medical degree from Wayne State University School of Medicine, his surgical training at Duke University and Loyola University and his surgical critical care training at Stroger Hospital in Chicago. He was a Fellow at the MacLean Center for Medical Ethics, a US Fulbright Scholar in Ukraine, and lectures at the Institute of Bioethics at The Ukrainian Catholic University in Lviv, Ukraine. He has retired after being in practice for more than 40 years. Peggy Kelley, MD is a practicing pediatric Ear, Nose & Throat (ENT Specialist) in Portland, OR following a 20-year career at Children's Hospital Colorado, University of Colorado. Dr. Kelley graduated from University of Pittsburgh School of Medicine, her otolaryngology training was at the University of Rochester with a fellowship in pediatric otolaryngology at Children's Medical Center in Cincinnati, OH. She served on the Ethics Committee and as an Ethics Consultant at Children's Colorado and Parker Adventist Hospital and as volunteer faculty at the University of Colorado Center for Bioethics and Humanities. She completed the MacLean Center fellowship supported by the American College of Surgeons Travel Scholarship and led by Dr. Angelos in the same year as Dr. Lonchyna. Peter Angelos, MD, PhD is Professor of Surgery, Chief of Endocrine Surgery, and Associate Director of the MacLean Center for Clinical Medical Ethics at the University of Chicago. He received his undergraduate degree, medical degree, and a doctoral degree in philosophy from Boston University. He has written widely on ethical issues in surgical practice, optimizing endocrine surgical outcomes, and how to best teach medical ethics to surgical residents. He is past president of the American Association of Endocrine Surgeons and Councilor of the American Board of Surgery.