Hair Follicle Regeneration (Stem Cell Biology and Regenerative Medicine #72) (Hardcover)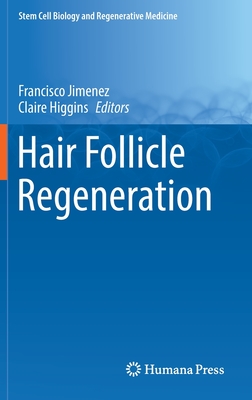 $183.99

Usually Ships in 1-5 Days
Description
---
This book aims to comprehensively review the current cell-based strategies under investigation to achieve the regeneration of human hair follicles. The unique capacity of the human hair follicle to self-renew explains why this complex "mini-organ" has always attracted so much interest as a model for researchers to study stem cell biology and regenerative medicine. The hair follicle is considered a main reservoir of cutaneous stem cells, containing several pools of epithelial, melanocyte, and mesenchymal stem cells involved in hair follicle self-regeneration and pigmentation. In addition, while some of the different follicular cell types contribute to hair shaft growth, others participate in very important interfollicular functions such as dermal remodeling, re-epithelialization after wounding, and cutaneous stem cell homeostasis.
The idea of human hair follicle regeneration either "de novo" or by activating dormant miniaturized follicles is not new, yet still continues to arouse enormous interest in the pursuit of a definitive cure for baldness. In contrast to hair follicle regeneration in mice, the attempts made with human follicles have been disappointing in terms of efficiency. However, recent advances in stem cell biology--as well as the appearance of new technologies like 3D printing--have revived expectations in this field of research.
This book is divided into four sections. The first part includes an overview of the strategies used in hair follicle regeneration and a historical summary of the most important achievements to date. Parts two and three comprise the main body of the book, with detailed descriptions of the cells and tissue structures involved in hair follicle regeneration, followed by an elaboration of the different therapeutic strategies, engineering techniques, and a clinician's perspective of stem cell-based therapies in hair loss treatments. Finally, the fourth part reviews the important contribution of the hair follicle in healing cutaneous wounds through the regeneration and remodeling of the dermis and epidermis after injury, as well as wound induced hair follicle neogenesis that occurs when the skin is injured.
About the Author
---
Dr. Francisco Jimenez received his medical degree at the University of Navarra, Spain, and his Doctoral Thesis at the Universidad Autonoma de Madrid. He did his residency in Dermatology at Hospital La Paz, Madrid. After this, he did a one-year Fellowship in Dermatopathology at the University of Miami, a two-year Fellowship in Mohs surgery at Duke University, and a one-year Fellowship in Hair Restoration Surgery at the Stough Clinic in Arkansas. He currently works exclusively in his own private practice (Mediteknia Dermatology and Hair Transplant Clinic) and is a Research Associate Professor at the University of Fernando Pessoa in Las Palmas de Gran Canaria, Spain. He is Past-President of the International Society of Hair Restoration Surgery (2019- 2020), the largest and prestigious scientific organization devoted to hair restoration surgery. He received the Platinum Follicle Award from the ISHRS for his achievements in hair research in 2011.Dr. Claire Higgins received her B.Sc. degree in Natural Sciences from the University of Durham, UK, in 2003, and Ph.D. in Skin Developmental Biology also from the University of Durham in 2007. After this, she moved to the Department of Dermatology at Columbia University in New York, USA, as a Postdoctoral Fellow. In 2010 she received a Career Development Award from The Dermatology Foundation and became an Associate Research Scientist, remaining at Columbia until 2013. In 2014, she joined the faculty at Imperial College London, where she is currently a Senior Lecturer (UK equivalent to Associate Professor) in the Department of Bioengineering. At present, she is the Secretary of the European Hair Research Society (since 2017), an independent non-profit organisation founded in 1989 and dedicated to promoting the research of hair biology and hair disease in Europe.. At Imperial, she is also Principal Investigator of the Skin Regeneration Lab, which uses the hair follicle as a model system to study the processes of tissue repair and regeneration, both in homeostatic conditions and after injury.