Pocket Atlas of Radiographic Anatomy (Thieme Flexibooks) (Paperback)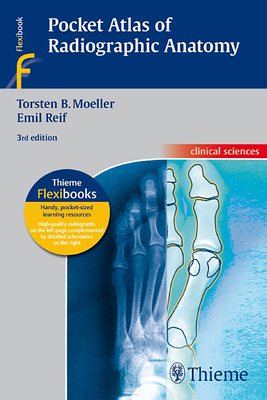 Description
---
Third edition of the classic pocket guide to basic radiographic anatomy
In this easily accessible pocket atlas, two expert radiologists present the normal radiographic anatomy readers need in order to interpret conventional diagnostic radiographs. Each practical, two-page unit displays a standard radiograph of a different projection on the left-hand side supplemented by a detailed, clearly labeled schematic drawing on the opposing page. The consistent, user-friendly format facilitates easy identification and rapid review of key anatomic information.
Features:
177 radiographic studies provide multiple views of every basic anatomic structure
High-resolution radiographs appear beside explanatory drawings to aid comprehension
Seven examinations new to this edition cover a trans-scapular "Y" view of the shoulder; 45 external and internal rotation views of the knee; and more
An ideal reference for anyone involved in the interpretation of commonly performed radiographic studies, the third edition of Pocket Atlas of Radiographic Anatomy is an especially valuable tool not only for medical students and radiology residents, but also for radiological technologists.
About the Author
---
Emil Reif, MDDepartment of RadiologyMarienhaus Klinikum Saarlouis - DillingenDillingen/Saarlouis, Germany
Praise For…
---
Very straightforward...a wonderful reference book.--Student RepresentativeThis Atlas, as for its previous editions, is undoubtedly recommended to the residents in radiology. Clinical Imaging May 2011Praise for the second edition:This book contains a very good range of easily accessible information on common examinations and represents a valuable starting point for radiographers seeking image interpretation information...highly recommended. --RAD Magazine[Five stars] A readily accessible tool for reading, learning, and reference...covers a wide gamut of radiographic anatomy...pocket-sized...information is readily available...a good introduction to radiographic anatomy..the .images are excellent.--Doody's Review