Harry Potter y el legado maldito / Harry Potter and the Cursed Child (Paperback)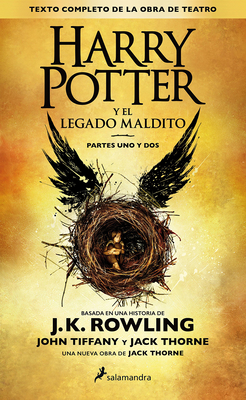 $22.95
Email or call for price.
Staff Reviews
---
The Book Seller is excited to announce that we will be hosting a midnight release party for this epic eighth story! Click here for all the details.
Description
---
DIECINUEVE AÑOS DESPUÉS...

LA OCTAVA HISTORIA.

Harry Potter y el legado maldito es una obra de teatro de Jack Thorne basada en una historia original de J.K. Rowling, John Tiffany y Jack Thorne. Es la octava historia de la saga de Harry Potter y la primera que se representa oficialmente en los escenarios.

Ser Harry Potter nunca ha sido tarea fácil, menos aún desde que se ha convertido en un ocupadísimo empleado del Ministerio de Magia, un hombre casado y padre de tres hijos.

Mientras Harry planta cara a un pasado que se resiste a quedar atrás, su hijo menor, Albus, ha de luchar contra el peso de una herencia familiar de la que él nunca ha querido saber nada. Cuando el destino conecte el pasado con el presente, padre e hijo deberán afrontar una verdad muy incómoda: a veces, la oscuridad surge de los lugares más insospechados.

Esta edición especial del texto teatral acerca a los lectores la continuación del viaje de Harry Potter, sus amigos y familiares, inmediatamente después del estreno mundial de la obra en el West End de Londres el 30 de julio de 2016.

ENGLISH DESCRIPTION

It was always difficult being Harry Potter and it isn't much easier now that he is an overworked employee of the Ministry of Magic, a husband, and father of three school-age children.

While Harry grapples with a past that refuses to stay where it belongs, his youngest son, Albus, must struggle with the weight of a family legacy he never wanted. As past and present fuse ominously, both father and son learn the uncomfortable truth: Sometimes, darkness comes from unexpected places.

The playscript for Harry Potter and the Cursed Child was originally released as a "special rehearsal edition" alongside the opening of Jack Thorne's play in London's West End in summer 2016. Based on an original story by J.K. Rowling, John Tiffany, and Jack Thorne, the play opened to rapturous reviews from theatergoers and critics alike, while the official playscript became an immediate global bestseller.
About the Author
---
J.K. Rowling es autora de los siete libros de la famosa saga de Harry Potter. Amada por lectores de todo el mundo, la serie ha vendido más de 500 millones de ejemplares, se ha traducido a ochenta idiomas y ha inspirado ocho películas de enorme éxito de taquilla. Ha escrito asimismo tres volúmenes complementarios con fines benéficos: Quidditch a través de los tiempos, Animales fantásticos y dónde encontrarlos (en beneficio de Comic Relief y Lumos), y Los cuentos de Beedle el Bardo (en beneficio de Lumos), así como el guión inspirado en Animales fantásticos y dónde encontrarlos, la primera de una serie de cinco películas que escribirá la autora. También colaboró en una obra, Harry Potter y el legado maldito, Partes Uno y Dos, que se estrenó en el West End de Londres en el verano de 2016. En 2012 creó la plataforma digital Pottermore, donde sus fans pueden disfrutar de noticias, reportajes y artículos, así como de contenido original escrito por J.K. Rowling. Asimismo, ha escrito la novela para adultos Una vacante imprevista, y, con el seudónimo Robert Galbraith, la serie de novelas policíacas protagonizadas por Cormoran Strike. Ha sido galardonada con numerosos premios, entre ellos la Orden del Imperio Británico por su contribución a la literatura infantil y la Orden de los Compañeros de Honor, la Orden de la Legión de Honor de Francia y el Premio Hans Christian Andersen. * *