Healthy Immune System Book: Your No-Stress Comprehensive Immunity Recovery Guide (Paperback)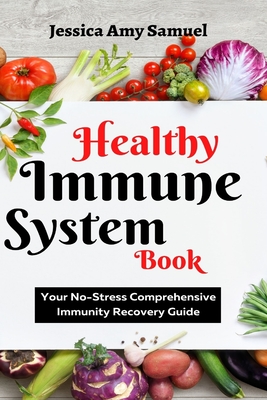 Description
---
Are you mindful that a healthy and balanced body immune system is the body's key protection against infection as well as conditions? It is likewise the body's key protection against cancer cells. Your body immune system is composed of various sorts of
leukocyte
. Each kind is specifically made to eliminate a particular kind of condition or infection.
Frequently, your body is dealing with an undetectable opponent that is attempting to eliminate you. That's why you get ill regularly. You most likely get unwell even more than you do anything else. When you get ill, your body is attempting to offer you what it assumes is the very best opportunity it needs to eliminate the "crook" (infection or diseases). The reality is, when your body is dealing with an infection, it is in fact developing antibodies that are essentially "depriving" the
germs/viruses
for nutrients. That's why lots of people that obtain an influenza shot annually nearly never ever contract the influenza or other viruses. Rather, they get a moderate cold that lasts a couple of days. That's due to the fact that their bodies are hectic producing those "depriving" antibodies.
Suppose you could make it simpler on your Body immune system? This is a body immune system protection user guide regarding just how to enhance your body's all-natural defenses (Immune Sysytem). It consists of details you might not have actually thought about in the past, as well as reveals to you exactly how to boost your power degrees, minimize tension, get a far better evening's sleep, illness combating long life, vigor as well as capacity.
Why Should You Take Boosting of Your Immune System Seriously?
A weakened or exhausted immune system defense makes you more vulnerable to illness and disease
Help protect your body against harmful viruses and bacteria that cause colds, the flu and other illnesses.
Help support a healthy weight so you don't put extra stress on your heart and circulatory system.
Help keep your skin healthy and toxin-free.
A properly nourished, strong immune system gives you the best chance of staying healthy and fighting off infections
An unhealthy immune system can lead to chronic fatigue, depression, weight gain, and many other health problems
When you have a strong immune system, you have the energy to fight off colds and the flu
Your white blood cells, antibodies, and phagocytes (specialized cells that ingest and destroy unwanted invaders) work better, which means they attack cancer cells, HIV, and other diseases
Your body makes antibody "swipe files" that contain information on what it has previously encountered. If you come across a microbe or virus you have never before seen, your immune system will create a "virtual" immunity to it.
Your immune system is able to distinguish between "friend" and "foe". This means that if you are fighting an infection, your body treats the invader as a threat, and works to get rid of it.
...and many more
This immune system booster book suitable for kids and adults is the body's defense against viruses, bacteria, fungi (mold), and certain types of cancer.
It works in conjunction with your nervous system, your lymphatic system, and your cardiovascular system
. Basically, it's everything working together to keep you healthy. When your defenses are strong, you are less likely to fall prey to viruses, bacteria, and other infections.