FMTVDM - The Difference Between Guessing & Knowing if you have Heart Disease, Cancer or CoVid-19.: Part 2 - AI & Heart Disease (Paperback)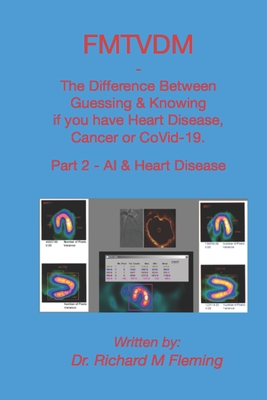 $17.95
Email or call for price.
Description
---
As we saw in Part 1 of this series, efforts by physicians to diagnose, treat, and follow treatment response of a patient, are flawed due to the fundamental limitations that occur when clinicians have to "interpret" the results of visual imaging studies.These limitations are overcome when those images are quantitatively measured to know the extent of the problem that exists. As we saw in Part 1, FMTVDM is the first and only patented method that actually measures these images; providing accurate, consistent and reproducible results that both the physician and patient can depend upon.Unfortunately, these limitations have also resulted in many individuals, Universities, and Companies, attempting to sell the idea that they are either better at interpreting qualitative images than others; or that what they use is quantitative. Nothing could be further from the truth, as the following presentation will demonstrate. Following the slide series there are two publications from the British Medical Journal Open Quality, and the European Journal of Nuclear Medicine and Molecular Imaging. Both peer-reviewed published papers show the difference between qualitative, semi-quantitative, and true quantitative imaging. Those papers are included in their entirety following the 2019 FNMT Conference presentation.