Dr. Sebi 7 Day Juice Detox: The Day by Day Guide to Fasting and Rejuvenation with Alkaline Juice Recipes, Tamarind, Sea Moss and Herbs Alkalizing (Paperback)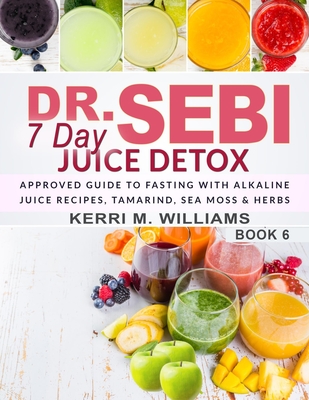 $16.77

Usually Ships in 1-5 Days
Description
---
A fresh, alkaline green juice every day can be one of the best habits you'll ever cultivate on the Dr. Sebi Diet lifestyle. It's an easy way to reset your metabolism, regain vigor, heal and reverse disease.
Touted as the second best drink - only next to natural spring water, alkaline juices and tamarind can act as replacements for unhealthy energy drinks, soda or carbonated drinks. In this guide, we'll take a look at:
- Why Green juices may be all you need for complete healing
- Why you should get started on the alkaline vegan diet with juices
- How to get started on juicing even if you're completely new to the diet
- What you'll need for a successful juicing detox
- How to do a 7 Day Alkaline Juice Detox
- Tips and Strategies for Success on Alkaline juicing
- How to source for the best fresh and wild crafted ingredients
- Approved juicing ingredients for your electric alkaline juice recipe
- 9 ingredients you should never use for juicing even though they are touted as health foods
- How to combine your alkaline juice with sea moss and herbs for your detox routineAlso included are:
- A Daily Meal Plan with Alkaline fruit and veggie Juices, Tamarind juice, sea moss and herbs
- Day by day step by step routine plan for juice detox
- How to tell your juice detox is working
- 3 best ways to break your juice detox fast
- Extra tips on taking care of your liver and kidneys
- And much more...
Wanna learn more, click the BUY NOW button to learn today.