Dialogues With the Lord of Time (Paperback)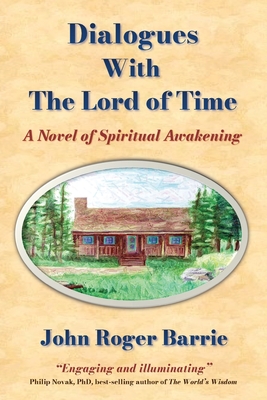 $14.95

Usually Ships in 1-5 Days
Description
---
In the spiritual novel, Dialogues With the Lord of Time, a wise teacher brings authentic spirituality and inspired teachings into many seekers' lives.
A treasure trove of spiritual teachings from Christianity, Buddhism, Hinduism, Judaism, Sufism, and Taoism. Filled with practical advice to help dedicated aspirants find God.
With spiritual teachings so realistic and authoritative, you'll forget you're reading a novel.
FATHER CHRISTOPHER, a retired priest and university professor who taught courses in comparative religion, lives in Northern California's remote coastal region. Endearing yet tough, approachable yet scholarly, the charismatic Father Christopher is in his twilight years. A group of seekers gathers at his cabin in the early 1990s to converse with him on spiritual topics. Well-versed in world religions and always a bit of a rascal, Father Christopher's profound, transformational dialogues frequently leave his listeners spellbound and their lives changed.
Join his rapt audience as he describes uncommon spiritual states of consciousness and how to attain them. Listen with attentive seekers as he shares practical methods to assist them on their path to enlightenment. Sit alongside the assembled aspirants as he helps them discern genuine spiritual teachers from the dubious. But whether discussing abstract concepts or doling out practical advice, the ever-engaging, sometimes controversial, and occasionally iconoclastic Father Christopher never ceases to captivate.
We follow along through the eyes of the author, who wrestles with various issues in his life. During the course of several visits to Father Christopher, we witness his inner metamorphosis as he finds ways to integrate the secular and spiritual aspects of his daily life. Join him and other seekers as they explore the mysteries of spirituality on a magical journey of self-discovery with Father Christopher, whose wise teachings provide insight-filled antidotes for our spiritually challenged times.
In addition to nine lively dialogues with Father Christopher, excerpts are appended from Father Christopher's Journal, which is sprinkled with inspirational adages such as: "Live fully in the moment. Love fully in the heart." "Be a walking, living, breathing pillar of love, a blazing reservoir of divine solace and compassion." "Infinite, unruffled tranquility can be yours in an instant if you let go of the worrying mind." "To walk in the footsteps of God, radiate limitless love unceasingly."
Citing Jesus and Ramakrishna; Lao Tzu, Rabi'a and Isaiah; St. Teresa, Bodhidharma, and numerous saints and mystics from diverse religious traditions, Dialogues With the Lord of Time is chock-full of timeless wisdom and sage guidance for serious aspirants, from beginners to advanced. In addition, there is cautionary advice to equip seekers with skills to help them avoid questionable teachers. With profound teachings from Catholic mysticism, Vedanta, Zen and Tibetan Buddhism, the Jewish Bible, the Tao Te Ching, and the Bhagavad Gita, discussions range from in-depth meditation techniques to insights into the highest non-dual experience; from clear explanations of esoteric spiritual terms to soaring passages on devotional mysticism.
Take an inspirational and transformational spiritual journey in the novel, Dialogues With the Lord of Time.